Tap+Cork: Brooklyn Beer & Wine Fest Returns August 14-15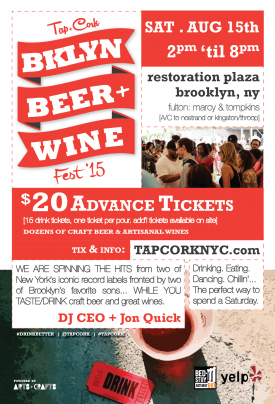 Bed-Stuy's premiere beer and wine event, Tap+Cork: Brooklyn Beer & Wine Fest, is set to take place August 14-15, 2015. In its third year, the festival has gained increasing community and attendee support leading to its expansion into a two-day experience full of great tastings, food and entertainment.
Presented by Arts+Crafts, the weekend kicks off with a series of free Tap Night Out events, Friday, August 14, at select locations with details to be announced the week prior.
The main event will take place Saturday, August 15 at Restoration Plaza featuring dozens of craft beers and artisanal wines, curated cuisines and other local vendors. In addition, the fest will include live musical performances, along with DJ CEO and friends spinning throughout the day.
"We have expanded our selections to meet crowd demands," said Tai Allen, creative director of Arts+Craft. "We are looking forward to accommodating our beer, wine and food fans with better & more offerings — especially after we "sold out" last year with more than 1500 revelers in attendance."
Tap+Cork organizers continue to place heavy focus/emphasis on supporting area businesses. This year, the curators have teamed with Bed-Stuy Gateway Business Improvement District and local influencers to include hospitality providers from Central and Eastern Brooklyn. Amazing bars, wine shops and restaurants will be on campus. Additional sponsors and media partners include S.K.I. beer and Manhattan Distributors, Yelp and YRB Magazine.
Tap+Cork: Brooklyn Beer & Wine Fest weekend takes place August 14 -15, 2015. with its main event being hosted at Bedford-Stuyvesant Restoration Plaza, located at 1368 Fulton Street in Brooklyn, New York.
Tickets are on sale now $20/advance; $30/door. Admission includes 15 drink tickets (additional tix may be purchased at event) and commemorative sampling cup. For tickets or more information, visit www.tapcorknyc.com.
# # #
About Arts+Crafts
It is the creative goal of Arts+Crafts to develop events that recognize the importance of giving neighborhoods amazing things to do and connect with one another, from concerts to beer & wine tastings to neighborhood festivals. Arts+Crafts is dedicated to creating the events for the communities it serves and experiences that communities will remember for years to come. Already entrenched in the Central Brooklyn and Downtown Brooklyn art scenes, the founders of Arts+Crafts are committed to the growth of arts and culture in New York City.
About Tap+Cork
Now in its third year, Tap+Cork events combine the sophistication of grand tastings with the celebratory atmosphere of summer festivals and neighborhood block parties. Each event features award-winning selections of craft beers, regional wineries and attracts thousands for tastings, live music and entertainment.