The 2016 Tap+Cork: Brooklyn Beer & Wine Fest To Take Place August 6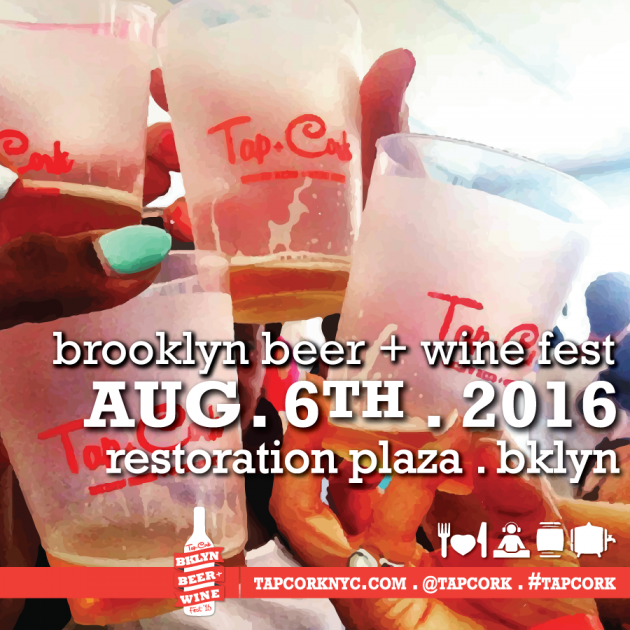 The 2016 Tap+Cork: Brooklyn Beer & Wine Fest returns to Restoration Plaza on August 6. The day-long fest will feature expanded craft beer and wine selections, curated food pairings and live music and performances, along with special pop-up events on August 4-5.
Arts+Crafts, Inc. will host its 4th annual Tap+Cork: Brooklyn Beer & Wine Fest on August 6, 2016. Now in its fourth year, thousands are invited to dance, eat and #drinkbetter during the ultimate beverage tasting experience featuring great food, entertainment, craft beer and artisanal wines.
The day-party returns to Restoration Plaza, where it will take over an expanded area of the compound creating more space to indulge in drinks and fun. Beer and wine aficionados will sip and sample their way through a curated selection of more than 50 craft beers and artisanal wines tied to food pairings to keep them partying the day away. Breweries and wineries featured include Bad Seed, Founders, Full Steam, Tiger, Uinta, Brooklyn Oenology, Duck Walk Vineyard, Theopolis and Vineyard.
Tap+Cork has also expanded the festivities, hosting two free soirees on August 4 and 5 prior to the event. Details and locations will be announced in mid-July.
"It's been incredible to see how this event has grown from a backyard-type atmosphere to a cultural mainstay in Brooklyn in just four years," Tai Allen, creative director of Arts+Crafts & Tap+Cork. "We are excited to continue serving the community by expanding our offerings of the best in drinks, food and culture."
Tap+Cork Brooklyn Beer & Wine Fest takes place Saturday August 6, 2-8pm at Bedford-Stuyvesant Restoration Plaza, located at 1368 Fulton Street in Brooklyn, New York.
Admission includes 15 sample tastings (additional sets of 5 tasting tix will be available for $5 at the event) and a commemorative sampling cup. Tickets for Tap+Cork are on sale now priced from $25-50. The event takes place rain or shine. Advance ticket purchase is highly recommended.
For more information or to purchase tickets, visit www.tapcorknyc.com.
# # #
About Arts+Crafts
It is the creative goal of Arts+Crafts to develop events that recognize the importance of giving neighborhoods amazing things to do and connect with one another, from concerts to beer & wine tastings to neighborhood festivals. Arts+Crafts is dedicated to creating the events for the communities it serves and experiences that communities will remember for years to come. Already entrenched in the Central Brooklyn and Downtown Brooklyn art scenes, the founders of Arts+Crafts are committed to the growth of arts and culture in New York City.
About Tap+Cork
Now in its fourth year, Tap+Cork events combine the sophistication of grand tastings with the celebratory atmosphere of summer festivals and neighborhood block parties. Each event features award-winning selections of craft beers, regional wineries and attracts thousands for tastings, live music and entertainment.