Bridge Street Development Corporation To Host Feast BedStuy Crawl As Part Of 'Bed-Stuy Alive! Week', October 11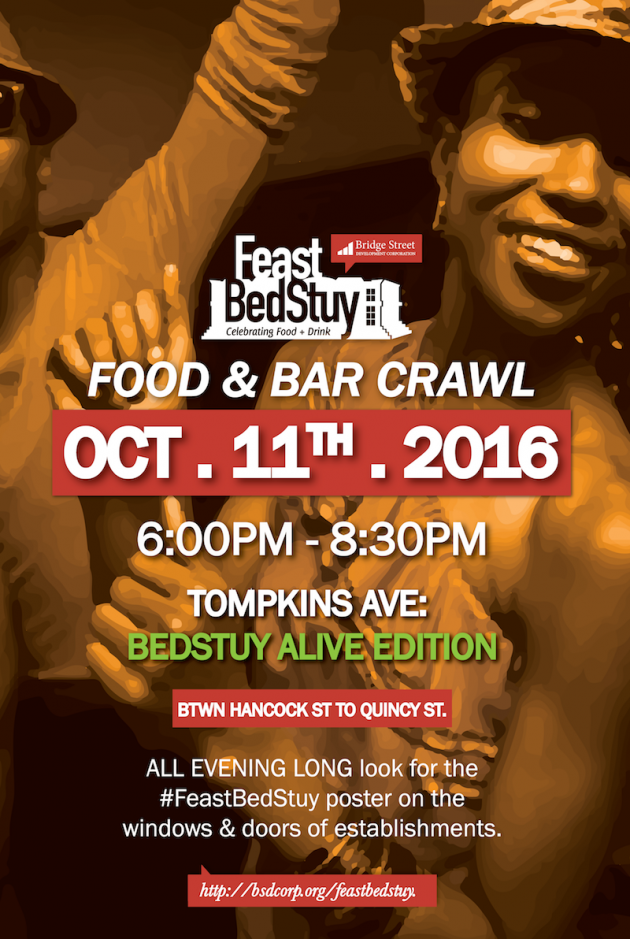 Bridge Street Development Corporation has announced the return of its foodie crawl, Feast BedStuy, as part of Bed-Stuy Alive! Week, Tuesday, October 11. The special event expands the crawl's original focus by inviting the community to "feast" on everything the neighborhood has to offer, from food and drinks to clothing, arts and accessories.
Feast BedStuy: Tompkins Avenue will take place along Tompkins Avenue, between Halsey and Quincy streets, featuring food and drink specials, a wine tasting and discounts at participating businesses. The crawl kicks off at The Bush Doctor Juice Bar and follows a seven-block span ending at Brooklyn Kettle.
Participating businesses include:
Bed-Vyne Wine & Spirits Shop: FREE wine tasting and 10% off wine/spirit purchases
Bed-Vyne Brew Bar: $6-$12 happy hour specials
Bed-Vyne Cocktail Bar: $6-$12 happy hour specials
Brooklyn Kettle: FREE cake slice with a coffee purchase
The Bush Doctor Juice Bar: $3 ginger beers
The Meat Market: 10% off all in-store purchases
Peaches HotHouse: $5 beer/wine happy hour specials and 10% off dine-in food purchases (excluding alcohol)
Tumbleweed General Store & Gallery: 10% off purchases of $20 or more
"We're looking forward to hosting this special edition of Feast BedStuy to support the efforts of BedStuy Alive!," said Imelba Rodriguez, Senior Program Director for Bridge Street. "The week-long celebration promises to be bigger than ever, with events that not only highlight the businesses on Tompkins Avenue, but also celebrate the cultural and artistic roots that make our historic community so rich and vibrant."
Feast BedStuy: Tompkins Avenue takes place Tuesday, October 11, 2016 from 6:00-8:30pm. The crawl was made possible by NYC Department of Small Business Services and is part of a series of events hosted by Bridge Street Development Corporation in support of the 12th annual Bed-Stuy Alive! Celebration. Additional events include an Erase The Millennial Debt Party!, tenant legal clinic, a Rite Aid Brown Bag event featuring one-on-one consultations and free blood pressure screenings and a real estate succession planning workshop.
For a complete list of participating venues or for more information on Feast BedStuy and other events, please visit bsdcorp.org.
**30**
About Bridge Street Development Corporation
Founded in 1995, Bridge Street Development Corporation (BSDC) is a faith-based, 501(c)(3) not-for-profit organization which evolved out of Bridge Street AWME Church's more than 200-year-long history of community service. Now an independently-operated community development corporation, its mission is to build partnerships with businesses, government, and other community stakeholders to provide civic and economic opportunities to the residents of Central Brooklyn. www.bsdcorp.org
About Bed-Stuy Alive!
Bed-Stuy Alive! is an annual week-long celebration to promote tourism and stimulate community pride. For the past 12 years, Bed-Stuy Alive! Week events have helped introduce thousands of visitors to the shops, businesses, distinguished art scene and the historical significance of one of the largest African-American communities in the country.