STooPS Announces Dates, Artists For 2017 STooPS Arts Crawl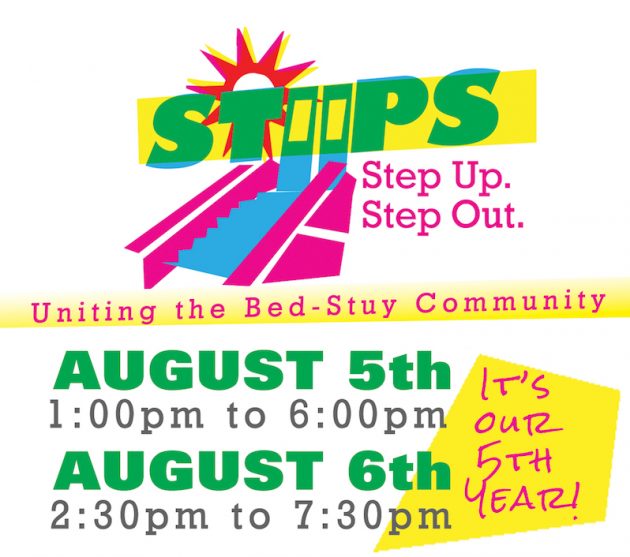 Bed-Stuy's premiere neighborhood art crawl returns August 5-6, 2017 for a two-day outdoor arts and performance experience featuring more than 20 performance and visual artist presentations along with children's activities and special evening pop-up performances.
(Brooklyn, NY) Bed-Stuy's premiere outdoor arts and performance experience, STooPS Arts Crawl returns Saturday, August 5 and Sunday, August 6 for a two-day extravaganza. Now in its fifth year, the crawl has expanded to host a weekend full of arts installations, live music, poetry, dance and more from some of Brooklyn's finest artists.
The 2017 STooPS Art Crawl will showcase more than 20 artists, including performance artists Aleijuan Afuraka, Babay L. Angles, Clarivel Ruiz`, Lisa Sikorski, Najee Omar; students from The Brooklyn Music School's Summer Vocal Arts Program and Noel Pointer Phantazia String Ensemble; visual arts house Fulton Art Fair and theater-driven Fulton Arts Foundation. There will also be a Kiddie Korner featuring such activities as storytime, mural painting and puppet-making.
Each year, STooPS connects with homeowners and businesses throughout the historic Bed-Stuy neighborhood to transform stoops, sidewalks and storefronts into artistic spaces for the community. The innovative event has gained momentum over the past four years, attracting nearly 1,000 attendees and helping to promote artists and build stronger communities.
The 5th Annual STooPS Arts Crawl will take place August 5, 1:00 – 6:00pm and Sunday, August 6, 2:30 – 7:30pm in various locations throughout Bed-Stuy. In addition, there will be evening performances at special pop-up locations to be announced. The event is free and open to the public.
For more information, including full artists, lineup and schedule, visit stoopsbedstuy.org.
##30##
About STooPS
STooPS was founded in 2013 by Brooklyn-based dancer and facilitator Kendra J. Ross as a way to support innovative ways to connect artists to community. STooPS strives to empower residents and artists to rethink how art is created through curated performances, community building activities, educational workshops and its annual STooPS Art Crawl. The crawl is STooPS' marquee event, hosted annually as an outdoor arts and performance experience to connect artists, business owners, neighbors and community stakeholders of all ages.